In the winter, around the solstice, we would rejoice in my mother's front garden, as the dragons would emerge from their spiky nests. For that is what we called the giant, arching flower spikes of the agave atenuata plants that populate the frontage of the property. They became famous. Really! Buses of tourists actually stop for pictures when the dragons are in bloom.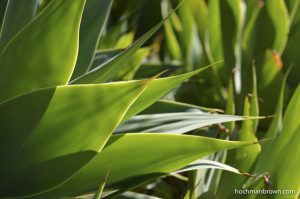 Something I find most fascinating about the agave is that the flowers don't produce seeds per se. Each blossom in the giant cluster turns into a baby plant, a pup. And sometimes, a few of the pups still attached to the base of the cluster, in a premature exuberance of growth hormones, will sprout their own blossoms, creating a brood of mini-dragon.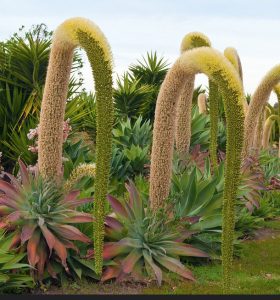 Upon blooming, the agave plant has fulfilled it's mission and produced hundreds of pups that may or may not take root. It's a numbers game. The plant will whither and die, only to rise again in the form of new growth that will continue the cycle some ten to fifteen years hence. Unfortunately, the small blooming minis suffer the same fate as the mother plant.
The base image for Agave Solstice is from a less explosive stage in the life of the plant.