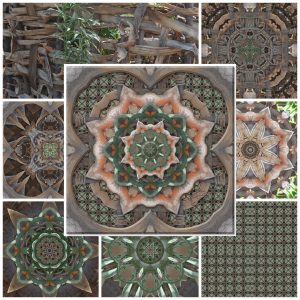 This last weekend at the Los Angeles County Arboretum, they celebrated the official opening to their demonstration garden, Crescent Farm, highlighting steps to create beautiful, bountiful gardens with less water.  To tie into this milestone, I took my inspiration for this artwork from photographs I captured at "the crescent." The area is abundant with native wildflowers. Additionally, there are interesting garden accents honed from natural materials. I found a mulch of bark laid out in a curved fan pattern. There were pathways lined with lengths of dried bamboo and logs around a tree in a talking circle.
But what really caught my eye was a woven support for an otherwise unkempt plant. What was once a bunch of garden castoffs is now a functional and esthetically pleasing structure. A Dragon Tree provided the material for the weave that now supports a variety of Goji Berry.
The piece I created as Artist-In-Residence at is "Goji Draco Fabrication." Maybe it would have looked more dragon-like if I had known the source of the brown/orange material. I didn't learn the identity of the plants until the artwork was complete. Many thanks to the Arboretum staff for helping me identify the subjects of my work.
@LAArboretum  #KarenHochmanBrown #ArtistInResidence #liveart #digitalart #kaleidoscope