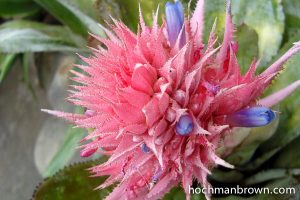 This stunning bromeliad blossom was a very exciting find. I knew the colors and textures would translate well with my process. I designed A Burst Of Bromeliad without a border and created shading to have  the piece appear to float directly on top of the paper.
Move forward a couple of years, I am now printing my work as dye infused metal prints and I felt that it was not a good base for a print without some kind of background. So I created a version with a border, but kept the white background.
But why stop there? I decided to try a third version, this time using a repeating design for the background. I find it fascinating that the same artwork can look so much different when put in a different environment. Which is your favorite?