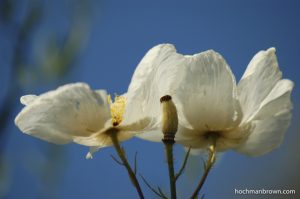 The matilija poppy is a sun-loving native of Southern California. It's large crepe paper blossom with a showy yellow puffball of stamens in its center give it the nickname of "fried egg plant." The photograph that inspired "Matilija Prairie Installation" presents the delicate flower and furry seed pod against a brilliant blue sky.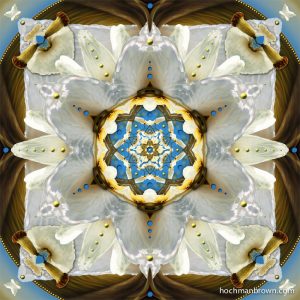 I never go into my work with specific intentions. Each component is created on the fly, based on what I feel is needed for the current artwork. I find a photograph I love and then work within my process to find the pieces to assemble. This means taking the photograph into a software environment (U&I Software's ArtMatic Designer) that I use to make the various reflections. I don't know what the results will be when I begin to explore the parameters of the reflections. I find faces and insects; there might be seductive openings. I keep changing setting, looking more images that please me.
In this piece, I found an intriguing structure created by reflecting the seed pod. I thought it looked like the turn-key in an old windup toy or maybe nautical cleats. The white square structure felt like a stretched canvas, slightly bowed in at the edges, now held down by these cleats. Also holding down the canvas is the bottom layer that breaches the bounds of the white layer on top. The petal layers have a celebratory air, particularly when festooned with dots. They almost seem to jump of the surface. In the heart of the piece, the blue sky is used to balance with color and dimension.