This is the sixth year of my self-published calendar/portfolio. Before I started specializing in my current form of art, I was a graphic designer. I guess I still am. The calendar gives me a chance to revisit my prior occupation. Putting the calendar together also gives me an opportunity to look back on the art I have created this year and relive what was going on with my life for each piece. The creations are very personal for me. Each photograph is a reminder of my travels or my mother's garden or whatever was going on the day I took the picture. Each finished work is a memento that relays clues for what was going on in my life.
I included the four kaleidoscope pictures I created early in the year as Artist-In-Residence at the Los Angeles Arboretum. I wandered the grounds early in the morning to take photographs I would work with throughout the day, ending in the afternoon, and these pieces were done. This was an exciting challenge, creating a piece of art in a single day, in front of an audience. You can find these artworks in the calendar in February, April, November and December.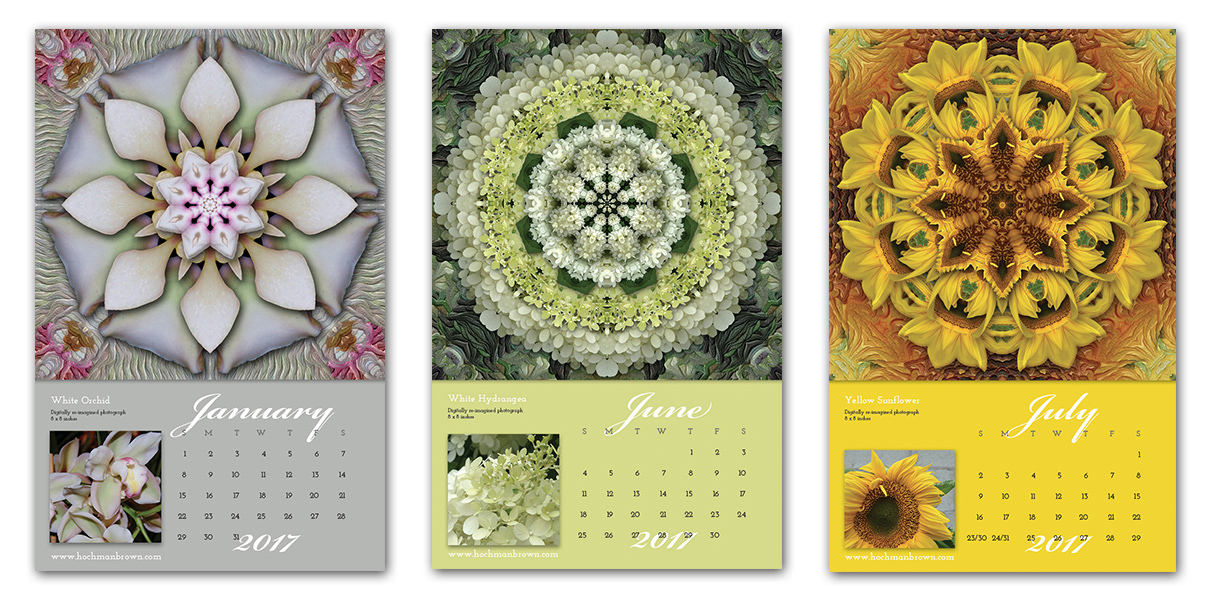 The other big project I had this year is represented in the months of January, June and July. These artworks were part of an installation at Sanchez Art Center in Pacifica, California. In this project, I created 50 small artworks in 50 days over the summer. I decided to use this as an opportunity to incorporate a technique I have been toying with for years, even before the kaleidoscopes. The basic form continues with the use of a single photograph that I have distorted and reflected. But for these small works, I made the backgrounds with a technique I developed that brushstrokes to paint the image based on texture, shape and luminescence of a photograph.
Pre-sale starts TODAY!
Bulk pricing available.